Dave, Ian & Claire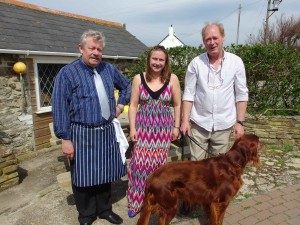 Dave, Ian and Claire bought the Halzephron in 2012 and have transformed the pub into a warm and friendly place, where you can enjoy a lovely meal, a quiet drink or a sumptuous cream tea.
They all live on-site and share their home with Olly the Irish Red Setter, who can be seen strolling around when not on the beach enjoying himself.
Their mission is to combine an award winning restaurant,  a popular pub and simple but elegant accommodation for their guests.
Our Staff
Paula
Paula is the longest serving member of the team, having just entered her 19th year at the Inn. Paula has always lived in the local area, so if you need to know what's what or where to go Paula is the one to ask.
Liz
Liz has been at the Inn for 17 years, and has always been involved in the catering trade. Has lived in Cornwall all of her life, and is a wealth of local knowledge, if you ask nicely you might even get the recipe for Hevva Cake.
Adelaide and Rosie
Both of these young ladies are new members of the team this year, best friends and great members of staff, always with a cheery smile and willingness to help.
Joe
Joe lives in the village and is in his final year of school. If he isn't working or at school, you will usually find him walking past the pub with his wetsuit on and a surfboard or maybe some oars under his arm to spend the day at the beach.
Ewan
Ewan is in his first year of college and his aim is to join the RAF. For now he can usually be found in the kitchen helping Dave.
Trystan
Trystan is another of the village young folk, having grown up on one of the local farms is no stranger to hard work, usually found buzzing between the two kitchens keeping up to date with the dishes and demand for plates.